In a move to further expand Canon's penetration in India market, Canon Friday announced its entry in the cinematography imaging business domain with the launch of the Cinema EOS range. Canon India unveiled 3 advanced Cinema EOS range cameras including the EOS C300, EOS C500 and EOS 1-DC, along with eleven new Cinema EOS lenses.
The Cinema EOS System targets a new area of imaging expression for Canon. The company had launched the EOS 5D Mark II digital single-lens reflex (SLR) camera in India in November 2008, targeting it at the broadcast industry. The camera has been used in the product of movies like Stanley Ka Dabba, and the more recent Department and Agent Vinod.
Announcing the launch, Mr. Masaya Maeda, Managing Director, Chief Executive Officer & Global Head – Imaging Communication Products (ICP) division, Canon Inc., said "It is an exciting time for Canon in Japan and in India, as we continue to remain motivated and responsive in our pursuit of growth. Canon sees India as a critical market for its overall growth and is focused on deepening our relationship while staying committed to realizing the untapped potential in the market.".
In addition to the above launches, Canon also introduced the Canon Professional Services (CPS) which will provide membership for selected media houses (company membership) targeting the regions of Mumbai, Delhi. The primary criteria for a photographer to avail the facilities of CPS is that the photographer must be a full time professional registered with a renowned media/ publication house using high end Canon products and must be a Canon brand loyalist. CPS concept has been established in worldwide Canon group and herein starts with Indian market. This CPS concept starts with selected Press Media and will expand to professional photographers and Professional camcorder user including Cinema EOS System.
Dr. Alok Bharadwaj, Senior Vice President, Canon India said "It is a unique service proposition to busy pro-photographers for whom any down time is a critical loss. At the start , we are issuing CPS enrollment to seven media houses for their Delhi and Mumbai photo bureaus".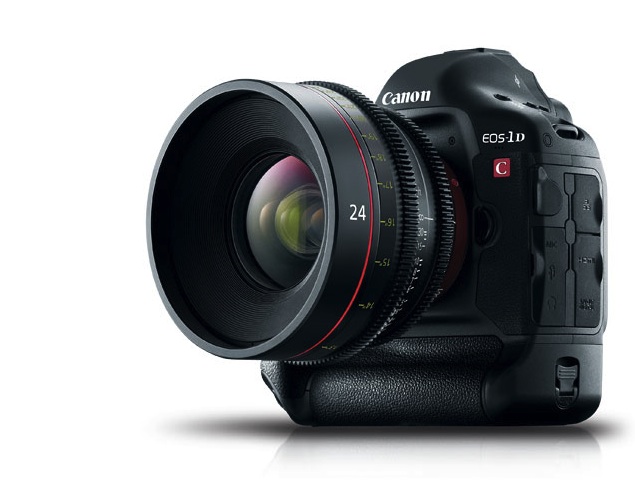 Salient Features
Cinema EOS C300: Show-Stopping High-Resolution Full-HD Performance
The Canon EOS C300/C300 PL is an all new digital video camera available in two models: the EOS C300, equipped with an EF lens mount for compatibility with the wide array of lenses that make up Canon's current interchangeable EF lens lineup; and the EOS C300 PL, offering a PL lens mount for use with industry-standard PL lenses. The camera features a Super 35 mm-equivalent approximately 8.29-megapixel CMOS sensor ideally suited for digital cinematography.
With a compact body design, the Canon EOS C300/C300 PL delivers exceptional maneuverability, enabling shooting from vantage points all but inaccessible to large cinema cameras, such as close to the ground for high-impact low-angle shots, and alongside walls.
The camera is equipped with four start/stop buttons positioned at various locations to satisfy any preferred camera-holding style. The new camera allows users to adjust image quality to match that of professional cameras and EOS-series digital SLR cameras.
Cinema EOS C500: 4K video recording for advanced digital cinematography
The 4K imaging format is emerging as the new standard for advanced effects and post-production in Hollywood and it is particularly important for big-budget motion pictures that include scenes compositing live-action cinematography with high-resolution computer-generated imagery.
The Cinema EOS C500 targets both, the motion picture and high resolution digital production industries. The camera will offer 4K RAW outputs and will be available with Canon's EF mount and the industry-standard PL mount. Supporting the emerging next-generation 4K-resolution video capture and RAW data output, the EOS C500 achieves exceptional video results without any loss in quality. The camera's uncompressed 4K output unleashes the full potential of Canon's premium range of EF Cinema Lenses, combining with Canon Log Gamma, which delivers the high-quality video and wide exposure latitude required by digital cinematographers. Highly mobile and compact for filmmaking versatility, the Cinema EOS C500/C500 PL digital cinematography cameras – like Canon's Cinema EOS C300/C300 PL cinematography cameras – provide all of the same ergonomic features.
Cinema EOS 1D-C: The World's First 4K motion, 18.1MP, DSLR Cinema camera
The Latest Addition to the Canon Cinema EOS Product Line Combines the Convenient Form Factor of a Digital SLR Camera with Full HD and 4K Video Recording up to 4096 x 2160-Pixel Resolution. Equipped with an 18.1-megapixel full-frame 24mm x 36mm Canon CMOS sensor, the lightweight EOS-1D C provides video recording at 4K (4096 x 2160-pixel) or Full HD (1920 x 1080-pixel) resolution to support high-end motion picture, television production and other advanced imaging applications.
The EOS-1D C's full-frame 24 x 36mm 18.1-megapixel Canon CMOS sensor makes possible a wide range of creative imaging expression, such as image-blur effects. Additional features include an expanded sensitivity range of up to ISO 25600 for exceptional motion-imaging results with reduced noise even in low-light settings.
Lenses for the C300 and other Cinema EOS System Cameras
No system is complete without its share of quality lenses. With the debut of the Cinema EOS System, Canon today introduced seven new 4K EF Cinema Lenses–four zoom lenses and three single-focal-length models–which complement the company's current diverse lineup of interchangeable EF lenses for EOS SLR cameras.
Wide-Angle and Telephoto Cinema Zoom Lenses (for EF and PL Mounts)
1)    CN-E14.5-60mm T2.6 LS (EF mount) and CN-E14.5-60mm T2.6 LSP (PL mount)
2)    CN-E30-300mm T2.95-3.7 (EF mount) LS and CN-E30-300mm T2.95-3.7 LSP (PL mount)
The four new Canon zoom cinema lenses comprise the CN-E14.5-60mm T2.6 LS (for EF mounts) and CN-E14.5-60mm T2.6 LSP (for PL mounts) wide-angle cinema zoom lenses, and the CN-E30-300mm T2.95-3.7 LS (for EF mounts) and CN-E30-300mm T2.95-3.7 LSP (for PL mounts) telephoto cinema zoom lenses. Each lens supports 4K (4096 x 2160 pixels) resolution, which delivers a pixel count four times that of Full HD (1920 x 1080 pixels), and offers compatibility with industry-standard Super 35 mm-equivalent cameras as well as APS-C cameras.i
Single-Focal-Length Cinema Lenses (for EF Mount only)
1)    CN-E24mm T1.5 L F
2)    CN-E50mm T1.3 L F
3)    CN-E85mm T1.3 L F
Like their wide-angle and telephoto cinema zoom lens co-stars, Canon's new CN-E24mm T1.5 L F, CN-E50mm T1.3 L F and CN-E85mm T1.3 L F cinema lenses deliver 4K optical performance. The three lenses, designed for use with EF mounts, are compatible with not only industry-standard Super 35 mm-equivalent cameras, but also 35 mm full-frame, APS-H and APS-C sensor sizes
Additionally, 4 more lenses have been announced
1)    CN-E15.5-47mm T2.8 L S (EF mount) and CN-E15.5-47mm T2.8 L S P (PL mount)
2)    CN-E30-105mm T2.8 L S (EF mount) and CN-E30-105mm T2.8 L S P (PL mount)
The expanded EF Cinema Lens series will include two wide-angle cinema zoom lenses, the CN-E15.5-47mm T2.8 L S (EF mount) and CN-E15.5-47mm T2.8 L SP (PL mount), alongside two telephoto cinema zoom lenses, the CN-E30-105mm T2.8 L S (EF) and CN-E30-105mm T2.8 L SP (PL). Ideal for use with next-generation 4K cinema cameras, the new lenses will join Canon's existing line-up of high-end EF Cinema Lenses in forming the core of the Cinema EOS system, which spans lens, digital cinema camera and DSLR categories.
Source link