A number of media companies are busy experimenting with virtual-reality journalism. But the ability to produce – not just consume – high-quality virtual-reality content quickly and cheaply is still largely out of the grasp of the average person.
One solution to this problem might be LucidCam, a stereoscopic, 3D 180-degree virtual-reality camera. To take a shot, a user simply holds the camera and presses a button. Since the camera has a 180-degree field of view, users just hold the camera steady – there's no need to do a dramatic panoramic sweep.
The LucidCam is part FlipCam, part GoPro, with the look and feel of a slim smartphone. It's meant to be a point-and-shoot camera for capturing virtual-reality content on the go. It's portable and mountable, and makes it possible to create high-quality content from a first-person perspective. With its 180-degree field of view and true depth perception, the camera creates the sensation that you really are there. You can then watch this virtual-reality content on your smartphone, with or without a special viewer, or on a virtual-reality headset.
LucidCam is the product of Lucid VR, a company founded by a group of Berkeley and Stanford graduates, who started developing the camera nearly two years ago and plan to launch it in mid-2016.
LucidCam has gone through a number of iterations and prototypes, and the next step is to take it to mass production. To make that possible, LucidCam is in the middle of raising $100,000 (roughly Rs. 66,35,000) on the crowdfunding site IndieGoGo.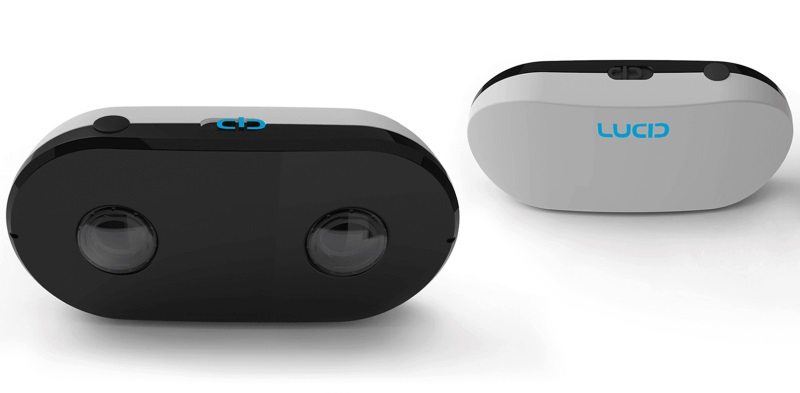 With 45 days to go, the product has already pulled in more than $90,000 (roughly Rs. 60,00,000).
Han Jin, a co-founder and the chief executive of Lucid VR, said the goal is to put the creation of virtual-reality content in the hands of the average consumer, what he calls "VR for everyone."
"There are infinite applications for virtual reality, but the potential for truly creative content is wasted if only a limited number of people have access to the tools for capturing VR footage," Jin said.
Jin was inspired to create the LucidCam by his family in China, with whom he wanted to share moments and memories from his life in the United States. There is only so much that can be seen via a 2D screen, and virtual reality was one way that family members such as his grandmother could experience his life via full immersion.
The immediate applications go beyond just first-person family videos. Ideas for user-generated virtual-reality content continue to roll in from early users of LucidCam, Jin said. Some people want to create experiences such as virtual-reality yoga classes or virtual-reality weddings. Jin refers to this as the "untapped potential of the long tail of innovation."
The best content, Jin said, is still being made by professionals, not amateurs. Companies such as JauntVR are applying Hollywood-style production techniques to creating cinematic, immersive virtual-reality experiences.
One that Jin recommends is a virtual-reality video of Paul McCartney live in concert singing "Live and Let Die."
As a result, you can already see two extreme scenarios for virtual reality to play out.
The first scenario is the "amateur" version: virtual reality becomes a user-generated hit and widely accessible, but most of the content is really just high-tech Vines, GIFs or Instagram videos – funny or amusing stuff you capture in 3D as you go about your life and that can be replayed in quick bursts. Maybe it's a scene from a party you're attending, a cute thing your cat just did or a monster dunk that you happen to capture on camera while sitting courtside at an NBA game.
It is virtual-reality content you don't need to edit and can upload quickly to a smartphone or virtual-reality headset.
The other scenario is the professional scenario: Virtual reality remains the preserve of deep-pocketed media and production companies capable of crafting high-end experiences that take viewers to places they would normally never be able to see, such as dangerous war zones or foreign locales such as Cuba. These videos would also be shot with a lot of rigs and mounts and offer full 360-degree immersion (compared with the 180-degree immersion offered by LucidCam).
To ensure that the first scenario happens, Jin said the LucidCam team is working to keep the camera affordable. One pricing model, he said, is GoPro's. The camera, he said, needs to be affordable and have just enough features to offer a superior experience, but not be so complex that it's hard to operate. He hopes to keep the price of the camera at launch below $499 (roughly Rs. 33,000).
© 2015 The Washington Post
Source link