Olympus on Thursday introduced three completely different new cameras – Air, E-M5 Mark II and Stylus TG-860. The Olympus Air is a lens camera, like the Sony QX1/QX100, that can be mounted onto a smartphone. The Stylus TG-860, a successor to last year's TG-850, is a rugged all-terrain camera. The E-M5 Mark II is a Micro Four-Thirds camera with a 16-megapixel sensor that can move laterally and vertically to capture a 40-megapixel composite hi-res image.
The E-M5 Mark II is a mid-range interchangeable lens camera and it will be available for $1,100 (roughly Rs. 67,900) sometime later this month for the body only. When the 'Hi-Res' mode in the camera is activated, the motor image stabilisation (IS) unit inside the camera can move sideways or up and down to capture eight images in sequence, moving the sensor by 0.5-pixel steps between each shot. Eventually, these eight images are composited together to create the 40-megapixel image. This technology is quite similar to five-axis IS system we saw in the Sony Alpha A7 II camera launched last year.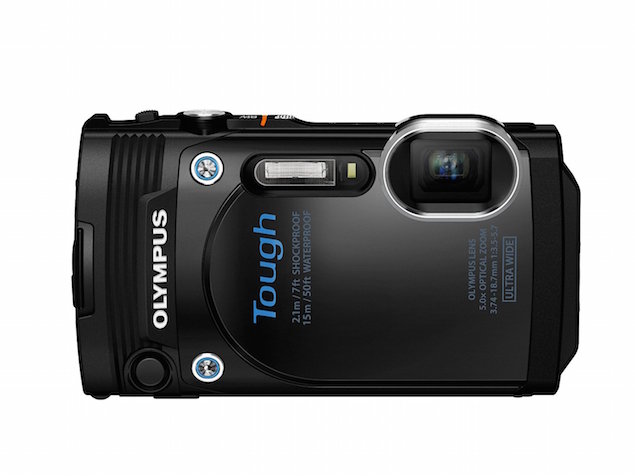 Olympus Stylus TG-860
Fancy IS system apart, the E-M5 Mark II's 81-point contrast-detection autofocus system is the fastest in the world according to Olympus. Also, Olympus adds a lot of improvements in the video capture capabilities of this camera. It can now capture 1080p videos at 24/25/30/50/60fps. And, it can capture videos with a bit rate of up to 77Mbps at a lower 30fps. Additionally, the E-M5 Mark II is dustproof and splashproof.
However, if weatherproofing is what you are seeking, the Stylus TG-860 is a better bet since it is waterproof (up to 50 feet) and shockproof (up to seven feet). It has a 16-megapixel CMOS sensor with a 21mm wide-angle lens. The wide-angle should come in handy when taking selfies – thanks to the 180-degree adjustable screen. It has connectivity features like Wi-Fi and GPS. This rugged camera is slated to launch for $279 in April.
Olympus Air
While there is no official confirmation yet, the Olympus Air is expected to be available in Japan next month. The Olympus Air has a a 16-megapixel Live MOS sensor. Interestingly, the Olympus intends to allow third-party developers to create applications for the Air, thus making it an open platform. It can also take up to 320 shots on a single charge. Other details are scarce at the moment.
For details of the latest launches and news from Samsung, Xiaomi, Realme, OnePlus, Oppo and other companies at the Mobile World Congress in Barcelona, visit our MWC 2023 hub.
Source link